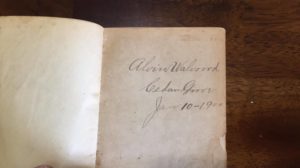 When Wilene Rushing attended an estate sale in Plano, Texas recently, she found and purchased a what she thought was a small "German" Bible published in 1884.
Written inside the Bible was the name, "Alvin Walvoord Cedar Grove Jan 10 1900."
Nearly any Walvoord would know that "Cedar Grove" was referring to the one in Wisconsin where many of the first Walvoord immigrants from the Netherlands settled.
Wilene knew this was a find that some family would treasure.  Searching the Internet, she contacted WalvoordHistory.com, by making a post about it on the Comments Page.
She posted, "Next page Antoinette born Oct 16 1888 Alvin born Dec 30 1890 Mabel born May 19 1893 Agnes born July 10 1896 Mother died Sept 5 1897"
Those names, were the names and birth-dates of Alvin and his sisters and the death of his mother.
It is possible that this Bible was presented to Alvin for a 10th birthday present or perhaps a church confirmation of some sort.
Since it was in Dutch, it might've belonged to one of his parents (who were both born in Wisconsin, but whose parents were all born in the Netherlands).  The Dutch language was still spoken locally at this time and Dutch was even still preached from the pulpit.
Could it have belonged to Jane M. (Pott) Walvoord before it was given to Alvin? She died in 1897 and Tony Walvoord remarried Sarah Jane Hilbelink on November 29, 1900.
Was it a gift from one of Alvin's Dutch grandparents?
We may not know the answers to these questions.  That's some of the fun of family history, to ask the questions. The fact that it was in Dutch and Alvin's mother had died just more than two years before, makes one wonder. But my guess would be, that it was always Alvin's Bible.
According to David Laux Walvoord, grandson of Alvin Walvoord and son of Alvin Walvoord, Jr., the Bible ended up in that estate sale by accident. The Bible had been in the possession of Clara Frances (Walvoord) Hudspeth, daughter of Alvin and older sister of Alvin, Jr.
She has been moved to a retirement home and her house had been sold, and "it had just slipped through the cracks."
I posted to Wilene, that Alvin Walvoord, Jr. was still alive and residing in Midland, Texas (he is a retired judge).  I let her know that I was friends with his son David and daughter Leanna on Facebook and that I would pass this information on to them.
David and Leanna were very interested and reached out to Wilene.
Wilene was great and this treasure was returned to the family.
Incidentally, Leanna Walvoord (now Bond) and Jeanan Walvoord (now Hamilton) attended Baylor University at the same time and met one another.  It is rare running into another Walvoord.  They were trying to figure out how they were related to each other and couldn't quite figure it out.  They both knew how they were related to John F. Walvoord of Dallas Theological Seminar and were able to figure it out from there!