Henry Walvoord was a prominent character of Holland Township, where he made his home since he was two years-old. He was born over a coal mine in Pittsburgh, Pennsylvania, November 14, 1847, being the only son of five children born to Gerrit Jan and Anna Maria Engel (Nolton) Walvoord.
He was said to have noble qualities, being kind, generous and thoroughly honest. Henry Walvoord was only eight years of age when he lost his father. Under the loving care and protection of his mother and grandfather, he grew to manhood, receiving such educational and social advantages as the early times afforded.
Young Henry attended the Amsterdam School and was a bright student. He was good in arithmetic and could add figures without a pencil. Though he had a brilliant mind, beyond the Amsterdam School he was self-educated. His grandfather, Hendrik, wanted to sell some land to send him off for more schooling, but Henry's mother, Anna Maria, didn't want him to leave her; she cried every day. So Henry gave up the idea of higher education.
Henry wanted to fight in the Civil War and although many thirteen and fourteen-year-old bare-foot boys fought for the Rebels, Henry, at fourteen, was too young to fight for the Union. So Henry spent most of his time on the Hendrik Walvoord farm. On that farm was a large apple orchard. They had a great variety of apples: Northern Spy, Strawberry Snow, Harvest, Greening, Tea Cup, Greesy Pippin, Sweet Russet, Ben Davis, Falden Stripes, and others.
Fish was an inexpensive food then. The family bought fish from the fisherman at Amsterdam (the Smith family). They had plenty of fish at all seasons. And the older boy, Henry, went fishing for suckers in early springtime.
Just a year after his grandfather Hendrik died, and a few days after celebrating his nineteenth birthday, Henry was married to Miss Henrietta Elise Eggerichs, the wedding taking place on December 5, 1866.
Mrs. Henry Walvoord was born December 17, 1844 at Neustadt Godens, Hanover, Germany, being one of the four children of Frederick W. G. T. and Himke Margaret (Janssen) Eggerichs. In May, 1865, she sailed from Bremen to New York taking forty-two days to make the voyage.
Henry and Henrietta had thirteen children: seven sons and six daughters, two of which (boys) died at infancy. All of the eleven surviving children grew into adulthood, and all were married except one (Louise Walvoord).
These children were:
Anna Margretta, who was born September 18, 1867, in the town of Holland;
Frederick, who was born March 13, 1869;
Gertie, was born December 19, 1870;
John Garrett, was born September 22, 1872;
Henry E., was born June 8, 1875;
William, was born October 9, 1877;
Meta Marie was born April 21, 1879;
Elise Henrietta, was born January 27, 1881;
Louise Antoinette, was born February 14, 1883;
Anthony, was born November 11, 1884; and
Ada Adeline, the youngest, was born May 6, 1889.
Henry Walvoord, as a young man, smoked a pipe. One day he found himself smoking in bed. He then became aware of the hold tobacco had in his life. He said to himself, "Am I a slave to tobacco? I'm going to see if I am master or tobacco." He quit smoking then-and-there and never smoked again. But he had a hard time disciplining himself.
Henry had inherited eighty acres of the farm from his grandfather Hendrik and had bought his sister Tonia`s forty acres after her death in 1873.
This farm was located on Highway RR (old Amsterdam Road) east of Cedar Grove, one mile east of Highway 32. By 1879 he was making cheese in a factory that shows on the 1889 Sheboygan County plat map two-thirds of a mile east of Highway 32 on the north side of the road. He was reported receiving 5100 pounds of milk per day in 1883, making thirteen flats and two cheddars from that supply.
A "cheddar" weighs approximately 70-78 lbs. Its diameter is 14 ½ inches and is 12 inches high. A "flat" weighs approximately 32-37 lbs. its diameter is 14 ½ inches and is 6 ¼ inches high. Flats used to be more popular than they are now, and when two were packed in a Cheddar box they were called twins.
Walvoord was appointed the Town of Holland representative on the Dairy Board of Trade in December 1885. One of his flats won first prize at the Wisconsin Dairymen`s Association meeting in 1888. He was considered a very active and successful cheese-maker.
In 1894, Henry sold all 120 acres of his farm and moved to a smaller, forty-acre farm west of Cedar Grove. He sold his farm and cheese factory to Gerrit Wissink, who hired an operator for the factory. Garret Grotenhuis bought the factory and a 37-by-80 foot plot of land for $625 in 1898, and resold it to Robert Koeppe and Herman Grasse in January 1901 for $1200.
After one season Grotenhuis repurchased the business and sold it to Gerrit Wissink for $2500. The sale price would seem to indicate that substantial improvements had been made, and that it was continuing to operate.
Douglas Wissink, a grandson of Gerrit, said that his grandfather never made cheese himself, but always hired a cheese-maker. He was not aware of what happened to the building.
In 1905, Grotenhuis set up a factory on the corner to the west in Cedar Grove there is the possibility he moved the Walvoord Factory building to the new site, or at least took the equipment for his new operation. In any case the Walvoord Cheese Factory probably ceased by 1905.
The Walvoords have the distinction of being the first to pay patrons of their cheese factory on the "relative value plan," based upon the percentage of fat that the milk contains.
---
The Henry Walvoord family moved to Sheboygan City, Wisconsin in 1897 after "Grandma" Anna Maria`s death. At that time Will and Louise Walvoord entered the eighth grade, Anthony the seventh and Ada the third. They attended Second Ward School (now Lincoln School).
At 9:00 A.M., Tuesday, December 11, 1900, Henry Walvoord held a public auction on his farm ¼ mile west of the village of Cedar Grove. He likely was liquidating his farming assets after moving his family north to Sheboygan and purchasing this much smaller farm west of Cedar Grove, and perhaps to devote more time to his responsibilities in county government. A list of the items that were up for auction as shown in the newspaper was as follows:
9 young extra dairy cows, 5 heifers coming 2-years old with calf, 3 one-year old heifers, 1 heifer calf, 1 bull calf, 4 of the cows are new milks, all high-grade Guernsey and Jersey, 1 mare five-years old, weight 1400; kind and gentle, single or double, 1 mare 10-years old, weight 1150, good family horse, 3 shoats, 100 Plymouth Rock chickens, 9 swarms of bees, 30 bee hives, 1 mower, 1 seeder, 1 sulky rake, 1 spring tooth harrow, 1 power feed cutter and carrier, one 2½ horse power gasoline engine with pulleys, shafting and belt, one cream separator 600 pounds per hour, 1 lumber wagon, 1 truck wagon, 1 platform spring wagon, 1 top buggy, 1 road cart, 1 pair bobsleighs, 1 cutter, 1 set of heavy harnesses, 1 set of light harnesses, 1 single harness, 1 plow, 2 corn cultivators, 1 harrow, 1 corn Sheller, 1 hay rack, 1 wheel barrow, 1 double wagon box, 1 stone boat, 1 rail boat, 1 set of dump boards, 1 duplex automatic woven wire fence machine, shovels, hoes, forks, rakes, and all other farming tools too numerous to mention. One heating stove, 1 secretary, 1 60-gallon churn, milk cans and milk pails and other household furniture. 35 tons of silage, 20 loads of corn fodder, some straw, 160 bushels of oats, and 50 bushels of potatoes.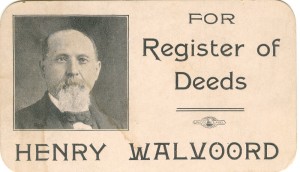 Henry became quite active in political circles and was called upon to fill a number of official positions. He was School Treasurer from 1871 to 1893, a member of the Town Board from 1875 to 1879, Town Clerk in 1880 and 1881, a member of the County Board in 1882 and 1883, a member of the Assemb1y of the Wisconsin Legislature in 1885 and 1886, a member of the County Board from 1887 to 1892, and for four years was a member of the Board of Trustees of the County Insane Asylum. After 1882 he served as Secretary of the Town of Holland Farmers' Mutual insurance Company.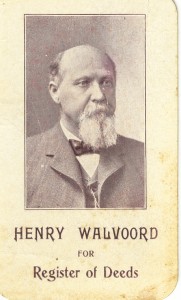 While living in Sheboygan, Henry was County Registrar of Deeds (for four years), and County Treasurer (for four years). Henry was a popular man both in the rank of the Republican Party and in his township shown by the many places of public trust he was called upon to fill.
According to the Sheboygan city directories, the Henry and Henrietta Walvoord family lived in several different homes while living in Sheboygan indicating perhaps that they considered their permanent home back on the farm in Cedar Grove. The family still spent time at the farm in Cedar Grove but for the most part they were in Sheboygan. They lived at 1209 S. 8th in 1897 and 1898. From 1898 to 1900 they lived at 522 Niagara. From 1900-1902 they lived at 416 Michigan Avenue. They lived at 830 Niagara from 1902 until Henry's death in 1909.
Henry and his family were members of the Presbyterian Church, of which his grandfather was an Elder for many years. Both Mr. and Mrs. Henry Walvoord were charter members of the First Presbyterian Church of Sheboygan.
Quoting from the diary of Louise Walvoord (daughter of Henry and Henrietta),
"In 1897, the Walvoord family left Cedar Grove. The parting words of Dr. Roth, our minister, were these: "You are going to a wicked city." Cedar Grove, at that time, was rated almost 100% as a church going community . We found no Presbyterian Church in Sheboygan. In a few months, a group of Presbyterians, most of them former residents of Cedar Grove, decided to start a Presbyterian Sunday School. The Modern Woodsmen Hall, above the Geele Hardware Store on Eighth Street was rented for religious purposes.

Our Sunday School missionaries, Rev. Joseph Brown and Rev. Samuel McComb were instrumental in organizing our Sunday School. Two more consecrated men could not have been found, for they were filled with the Spirit. It was their custom to read the Bible and have family prayers before retiring for the night. They visited here frequently and spent days visiting homes and inviting people to come to the services.

The weekly prayer meeting was a factor in our early church life. One prayer meeting during that first year I have never forgotten. I can still see the small circle of chairs — a small group on bended knees. I remember because I was the youngest person there in that group – a freshman in high school at the time and there in the presence of the older folk I prayed my first public prayer."
In response to a petition sent by 26 citizens of Sheboygan to the Milwaukee Presbytery, a commission of the Presbytery consisting of Rev. O.H. Chapin of Milwaukee, Rev. J. W. F. Roth Jr. D.D. of Cedar Grove, and Rev. J. W. McNavy of Milwaukee met with the petitioners in Sheboygan on the evening of September 26, 1898.
After a sermon by the Rev. Chapin, nineteen charter members were enrolled and officers were elected. Several of the Walvoord families are included in the charter membership: Henry and Henrietta Walvoord, their son Henry E. Walvoord and his future wife Annie Lemmenes, Meta Walvoord, Elise Walvoord and Louise Walvoord. The first elders were: Henry Walvoord, Martin Klanderman and B. Schreurs.
According to the records of the session held March 1st, 1899, a meeting of the members of the congregation was held at the home of Henry Walvoord, 522 Niagara Avenue for the purpose of calling a pastor. The members of the congregation were unanimous in choosing the Rev. C. Bristol as pastor of the congregation. The congregation promised by subscription toward the salary of the pastor the sum of $100 to be paid to the pastor in monthly installments.
Pastor Bristol had three other pastorates near Manitowoc and he divided his time among the four. He used a horse and buggy in the summer and fall and a cutter in the winter months to go from one charge to another. If the trains were on a favorable schedule, he would not use the horse and found it possible to reach two other responsibilities before noon, returning to Sheboygan for the evening service. This required much of his strength, and the official body of the church at that time, considering the fact, made other arrangements. He remained a year and then went into home missionary work, his territory being Minnesota, Wisconsin and Illinois.
At one time the moderator of the Milwaukee Presbytery told Henry Walvoord, "You should give up the church, there`s no future for a Presbyterian church in Sheboygan. You should join the Congregational Church instead." To this Henry replied, "Our family is not joining the Congregational Church." It is because of that decision and the faith and perseverance of its members that there is a Presbyterian Church in Sheboygan today. (In the year Louise Walvoord dictated this information, 1947, the First Presbyterian Church had a total of 413 members.)
Henry Walvoord departed this life at his home in the village of Cedar Grove on August 9, 1909 at the age of sixty-two after a brief illness. On the preceding Wednesday, while working in the factory of the Dutch Canning and Preserving Company, he suffered an attack of acute indigestion, from which it seems he had about recovered when on the day of his death he ate a hearty dinner of dove soup.
Abraham and Meta (Janssen) Ketman from Iowa had been at the Walvoord home and were about to depart that day.  (Meta, was Henrietta (Eggerichs) Walvoord's half-sister).
At the table, Henry prayed for them all.  He said he hoped they would all meet in Heaven someday.  After dinner, he sat up and talked a little while.  He said, "God's love in greater than we think it is and more people are going to be saved than we think."
Shortly after dinner Henry lay down, simply saying he was tired. He had lain on the couch only a few minutes when his daughter noted a strange pallor on his face, to which she called to her mother's attention. On going to him, Henrietta found her husband had died. He was 61 years old. They were married for 42 years.
The funeral took place on Wednesday, August 11, 1909 from his late home with interment in the Walvoord Cemetery. The Rev. J. F. W. Roth of the Presbyterian church conducted the services. At Henry's funeral, Safe in the Arms of Jesus was played on the organ at Cedar Grove Presbyterian Church.  The organist was Kate Huenink, daughter of John Huenink.
Safe in the arms of Jesus,
Safe on His gentle breast;
There by His love o'ershaded,
Sweetly my soul shall rest.
Hark! 'tis the voice of angels
Borne in a song to me,
Over the fields of glory,
Over the jasper sea.

Refrain:


Safe in the arms of Jesus,
Safe on His gentle breast;
There by His love o'ershaded,
Sweetly my soul shall rest.

Safe in the arms of Jesus,
Safe from corroding care,
Safe from the world's temptations;
Sin cannot harm me there.
Free from the blight of sorrow,
Free from my doubts and fears;
Only a few more trials,
Only a few more tears!
Jesus, my heart's dear Refuge,
Jesus has died for me;
Firm on the Rock of Ages
Ever my trust shall be.
Here let me wait with patience,
Wait till the night is o'er;
Wait till I see the morning
Break on the golden shore.
Henry Walvoord had a very large funeral. One minister said at the funeral, "Henry Walvoord couldn't have said good-by."