John Garrett Walvoord, the fourth of thirteen children born to Mr. and Mrs. Henry Walvoord, was born on September 22, 1872 in Cedar Grove, Wisconsin. John was of medium height, slender, and had brown hair and gray eyes.
When John was a small boy on the Amsterdam Farm, he was in the yard. A horse broke loose and galloped wildly running over him. God protected him from harm. He was unhurt. His mother, Henrietta, believed that angels guarded little children, otherwise they would have little chance of life.
He was fond of learning.  He went to school in Hingham and worked for his meals.  He then attended Sheboygan High School from which he graduated at the age of 24.
There, John worked for Dr. Charles and also earned his meals.  He had to take care of the doctor's horses (this was before automobiles). The mother of Hugo Sperling pointed John out as an example for her boys, by telling them that, "there is a boy who is going to amount to something, because he was the best church worker she had ever known."
Across the road from the Walvoord Farm at Amsterdam, was a family by the name of Nyenhuis.  John Gerrit Nyenhuis had married the widow, Blazina Flipse who had eight children. Mr. Nyenhuis was described as a mean, strict and somewhat abusive stepfather.
As a young man, John was captivated by the youngest of these children, Mary Flipse.
Mary was the youngest of eight children born to Zeelanders Jan Flipse and Blazina Verhulst. She was born on November 4, 1872 in the Holland Township of Sheboygan County, Wisconsin.
Mary would not have anything to do with John Walvoord because he wasn't a Christian. John was persistent, but Mary, a deep-rooted believer, was steadfast and refused because she believed in the Scripture that says, "Be ye not unequally yoked together with unbelievers: for what fellowship hath righteousness with unrighteousness? and what communion hath light with darkness?"
Later, John trusted Christ, and after a while Mary finally allowed him to court her. A wedding date was soon set. But, John, who was an avid player of a game called "football" had received a fairly nasty black eye from a rather raucous game and Mary refused to marry him until he was more presentable. In the 1890s, John's football uniform consisted of a heavy sweater, pants made of a quilted material for padding, and no helmet. They were finally married on December 26, 1899, less than a week before the beginning of the 20th century.
John Garrett, graduated from Sheboygan High School in 1896 at age 24.
John attended the Milwaukee Normal School (later called Milwaukee State Teachers' College) where he had been senior class president.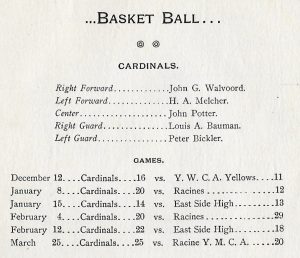 He played right forward for the Milwaukee Normal School "Cardinal" Basketball team.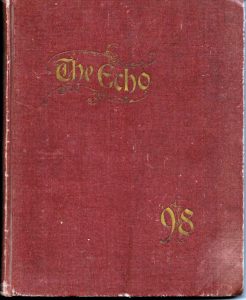 John was also business manager for the senior Echo board (the school yearbook). After receiving his diploma in 1898 he returned to Sheboygan and was principal of an elementary school for 21 years, following which, from 1919 to 1924 he became the Sheboygan Schools Superintendent. John was fired when he refused to allow the sale of beer at local high school sporting events.
John did great work for the First Presbyterian Church of Sheboygan. He was an elder and superintendent of the Sunday School for many years.  At times he was a Sunday School teacher too. He spent a whole summer of his vacation soliciting funds for the new building. He canvassed Oostburg and Cedar Grove for $25 gifts.  He raised $2500 that way.
One of his favorite hymns was "What a Friend We Have in Jesus." They sang that frequently in Sunday School. He had the Sunday School children memorize the First Psalm.
His wife Mary, was a dedicated worker in the church.  She was a Sunday School teacher and when her daughter, Ethel, was 3-weeks-old, she put her in the baby buggy, walked to church, and taught her Sunday School class. Mary was treasurer of the Missionary Society at one time.  When she was young she wanted to be a missionary but she gave up because of the expense required to finance such an education.  She was always missionary-minded.  She told her experience in regard to her first public prayer. She said she would rather have taken a whipping than to pray in public.
John and Mary had three children.
Ethel Elise Walvoord was born September 09, 1900 in Sheboygan,
Randall Henry Walvoord was born March 16, 1904 in Sheboygan and
John Flipse Walvoord was born May 01, 1910 also in Sheboygan.
In late 1909, when John and Mary were expecting their third child, some complications arose due to Mary being ill. She had always been sickly, even as a child. The doctor felt it would be dangerous for her to bear a child, and he strongly recommended that the pregnancy be aborted.
Mary was convinced that the Lord wanted her to have the child and her faith was rewarded. Not only was a healthy baby boy born, but she regained her health and lived past the century mark! This baby boy, John F. Walvoord, would later become one of the most well known of the Walvoord family.
All three children received a college or university education.
In 1924 and 1925, John Garrett Walvoord, a veteran educator, returned to school and attended the University of Wisconsin. While there he roomed with his son, Randall, who was also a student there.
After John received his degree, the family moved to Racine where John became principal of the Stephen Bull Elementary School in 1925.
In February 1929, while en-route to Sheboygan for his mother's funeral, John collapsed while on board a train in Milwaukee. He was taken to a Milwaukee hospital and later moved to the home of his brother Anthony who lived there.
On September 22, 1932, his 60th birthday, John was compelled to relinquish active duty from Stephen Bull due to illness.
During his last illness, John said that if he could live his life over again, he would do more for Jesus Christ.  He was overjoyed that all of his three children were Christians. He was glad to know that his youngest son was planning on earning a Doctorate Degree.  He suffered much in his last illness.  He said to his sister Louise, "I wonder if Mother had to suffer like this." He was anemic, had liver trouble, and a diseased heart.
Louise said, "The last time I saw him in bed, I said,'good-bye' and told him that I would see him again soon. I walked out of the room knowing that perhaps it was the last good-bye.  I did not dare look around but I knew his eyes followed me out of the room as if he too realized the end was near."
John Garrett Walvoord died on November 10, 1932 at the age of sixty. The school superintendent and principals acted as honorary pallbearers. The acting pallbearers were members of the session of the Presbyterian Church. No classes were held at the Bull school that day and the majority of children attended the funeral. A number of friends came from Sheboygan to attend the funeral. At the funeral, George Imig sang "Crossing the Bar."
The First Psalm was read at the funeral, the same Psalm that John had so many Sunday School children memorize.
Psalm 1 King James Version (KJV)

1 Blessed is the man that walketh not in the counsel of the ungodly, nor standeth in the way of sinners, nor sitteth in the seat of the scornful.

2 But his delight is in the law of the Lord; and in his law doth he meditate day and night.

3 And he shall be like a tree planted by the rivers of water, that bringeth forth his fruit in his season; his leaf also shall not wither; and whatsoever he doeth shall prosper.

4 The ungodly are not so: but are like the chaff which the wind driveth away.

5 Therefore the ungodly shall not stand in the judgment, nor sinners in the congregation of the righteous.

6 For the Lord knoweth the way of the righteous: but the way of the ungodly shall perish.
John Garrett Walvoord was buried on his father Henry's birthday, November 14, 1932 in the Walvoord Cemetery.
His wife Mary lived for a while with her son, John, in Ft. Worth, Texas. She later sold their house at 309 West Blvd. in Racine and moved to Washington State to live with her daughter Ethel. Mary died on October 25, 1974, just two weeks before her 102nd birthday. She was buried next to her husband John in the Walvoord Cemetery in Cedar Grove.