Randall Henry Walvoord was the second of three children born to John Garrett and Mary (Flipse) Walvoord. He was born in Sheboygan, Wisconsin on March 16, 1904.
Randall attended Sheboygan High School. According to his Senior class yearbook, his nickname was "Moogy."
Randall played basketball four years, football three years and was involved in Dramatic Club and Glee Club his senior year.
Randall's number in athletics was number "3." In football, he played end.
He graduated from Sheboygan High School in 1922.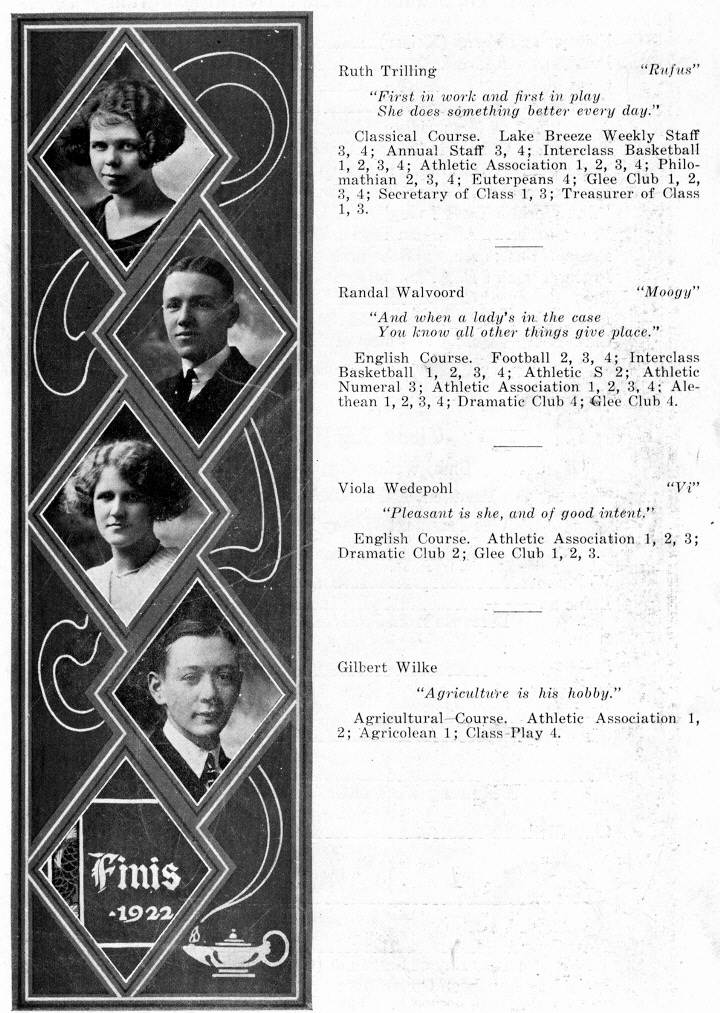 Randall's Sheboygan High School Yearbook page from his Senior year 1922
---
---
Randall attended Carroll College in Waukesha for a couple of years and then went to The University of Wisconsin in Madison where he studied engineering.
On June 28, 1927 he married Elizabeth Katherine Marie Korn, the youngest child and only daughter of David and Mary Anna (Imig) Korn.
Elizabeth was born on a farm near Abilene, Kansas on August 2, 1902.
In the Fall of 1907, the Korn family sold their Kansas farm and returned to Waukesha, Wisconsin where Elizabeth's grandparents Jacob and Katherine (Eiler) Korn had settled from Germany in 1840.
Elizabeth's grandfather, Jacob, was considered a pioneer of the town of New Berlin, Wisconsin.
Elizabeth later attended Carroll College in her home of Waukesha, Wisconsin where she earned a B.A. in History, and was a member of Theta Pi Delta Sorority.

Elizabeth's sorority sister, Jean Toutenhoofd (daughter of Mae Walvoord Toutenhoofd), introduced Elizabeth to her cousin, Randall Henry Walvoord, who also attended Carroll College before transferring to the University of Wisconsin at Madison.
Randall earned a B.S. degree in electrical engineering.  He was a member of Tau Kappa Epsilon Fraternity.
Randall's fraternity brother, Reuben G. Henrich, married Randall's cousin, Jean Tootenhoofd.
Elizabeth married Randall on June 28, 1927 in her parents home at 202 James Street in Waukesha.
Randall became County Engineer in Racine. He had a pair of expensive high-powered binoculars that he would use look at details on power poles.  He would also use these binoculars for bird watching.
Randall played clarinet for the Racine City Orchestra and was also considered a good dancer.
Randall and his family attended First Presbyterian Church in Racine where he was an elder.
When the Racine City Engineer was drafted to fight in World War II, Randall took over his responsibilities as well.
Randall was considered too old and had too many children to fight in the war but never-the-less was recruited by J. I. Case Company to help with the war effort. Randall built wings for the B-26 attack bomber.
Starting in December 1942, Case began involvement in a totally new type of manufacturing—making wings for the Martin B-26 Marauder medium-altitude bomber. Over the course of the next year, Case supplied 190 sets of bomber wings to the Glenn L. Martin Co.
The first Case-built ribs, spars and engine bays for the B-26 were delivered in April 1943, and deliveries continued through December 1943. Production work included drilling, riveting, burring and bolting. Case engineers designed and built most of the tooling on site for use in this precision work. Case also fabricated and anodized more than 400,000 parts for use in the operation.
After the war, Randall continued to work at J. I. Case as a draftsman but didn't like the inside work. He went to work for Allis Chalmers (a Milwaukee company) as an outside sales engineer. He would go from plant to plant to see what kind of motors they needed. As the company expanded, Randall was given a choice to transfer to either New York City or to Dallas, Texas. He didn't like New York and since his younger brother, John, lived in nearby Ft. Worth he chose to make Dallas his new home. But before actually moving to Dallas, Randall was transferred to Allis Chalmers' Motor Division in Amarillo, Texas.
So in 1945, Randall, Elizabeth and their five children (Mary, David, Joann, John, and Randy), moved to Amarillo. Sometime after the move, Allis Chalmers closed their Amarillo Motor Division. G. E. Jones Electric Company took over Chalmers' business and Randall was offered a job in their Sales and Repair Department where he remained until he died.
He was a member of the Texas Society of Professional Engineers.
Randall and his family attended First Presbyterian Church in Amarillo where he was an elder and also involved in the Men's Prayer Breakfast.
Randall was an enthusiastic player of tennis and would play nearly every Sunday afternoon with his son David.
He liked competition and playing games. Randall particularly enjoyed playing chess with his children and grandchildren.
He loved to garden and grew a victory garden with many vegetables including asparagus.  He also grew flowers in the garden.
Five children were born to Elizabeth and Randall in Racine. Mary Elizabeth was born, September 6, 1928. Her brother David Randall was born February 27, 1931. Their sister Joann Ethel was born November 13, 1932. John Earl was born October 24, 1934. The last child to be born in Racine was Randall Paul who was born on June 8, 1944.
Two more were born in Amarillo for a total of seven children. Betty Jo was born in Amarillo on October 31, 1945 and the "baby" of the family was born October 2, 1948 and named Gary Alan.
The year 1958 was an eventful year for the Walvoords. In May of that year, the family was honored as Amarillo's "Family of the Year" at a special awards dinner.
The family had been nominated along with 25 other Amarillo families to compete for the honor.
Just one month later on June 19, 1958, tragedy struck when their daughter Joann, a wife and a mother of a five-year-old son, unexpectedly died of a cancer that was detected too late. She was only twenty-five.
Randall and Elizabeth celebrated their 50th golden wedding anniversary on June 28, 1977.
Randall died the next year on August 31, 1978 at the age of 74, in Amarillo, Texas.
Elizabeth Korn Walvoord, Age 95,  died March 31, 1998 in Hereford, Texas southwest of Amarillo.
She was preceded in death by her five older brothers, Bert, Jake, Peter, Arthur (died at age two before Elizabeth was born), and most recently, Earl, who died in 1984 and who was a loved and well-known citizen of Waukesha.